Your comfort is our priority
We go over and above
Dietwise has been thoughtfully planned with your unique needs in mind. We have worked hard to create a gorgeous physical space that is calm, relaxing, and comfortable to make you feel welcome and safe when you visit us. Please let our Care Coordinator know if you have any special needs, and we will do our very best to accommodate these.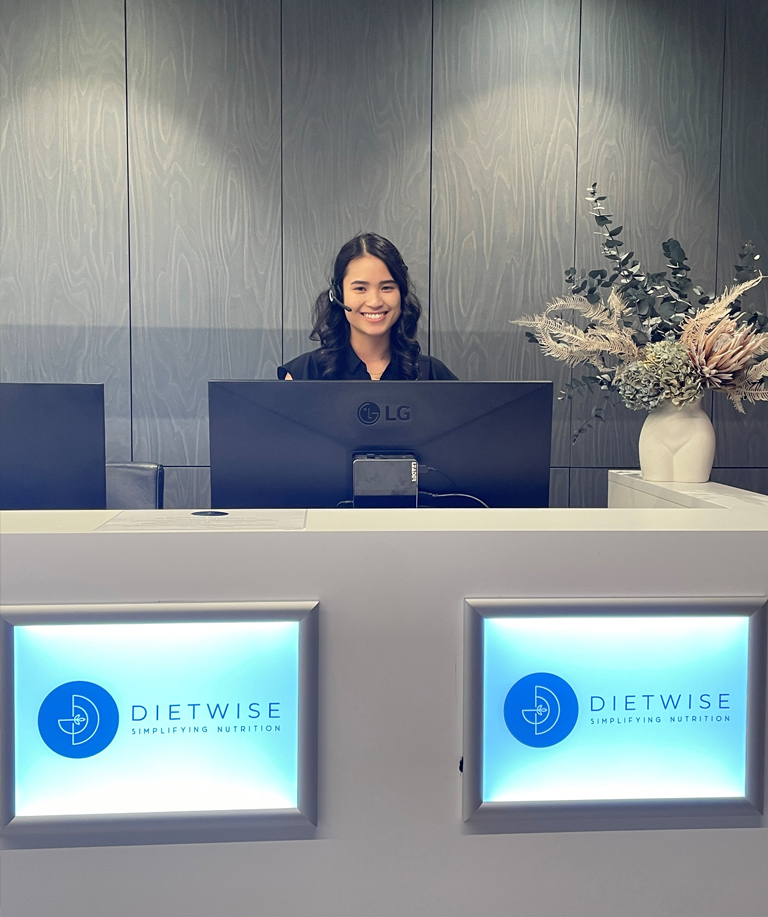 Wait In Comfort
Our waiting room is warm, cosy and welcoming and includes:
Soft adjustable lighting on a dimmer
Comfortable size-inclusive seating with cushions and throw blankets
Jigsaw puzzles, puzzle books, colouring in, Lego®, and games
Reading books and magazines
Beautiful aesthetic artwork
Potted plants and greenery
Privacy from consulting rooms and the reception desk
Ample space to ensure physical distancing and easy wheelchair access
Option of a second waiting room area if you prefer more privacy
A TV with a relaxing music channel and our educational video library
Free WiFi
Disposable masks
Disposable ear plugs if you are sensitive to noise
Non-Clinical Rooms
We have worked hard to create rooms that have a non-clinical vibe and include:
Stunning uninterrupted views of the Perth city skyline
Natural light with tinted windows and blinds to reduce glare
Air-conditioning at a comfortable room temperature 
Potted plants and gorgeous quirky room décor
Outdoor balcony access in some rooms
Hot relaxing herbal teas and fresh bottled water
Diffusers with essential oils
Option of low-volume chillout music
A collection of fidget toys, plush and weighted toys, and puzzles
Cushions, weighted blankets, and throw blankets
Comfortable size-inclusive seating and Therapy Pod bean bags
Ample access and space for wheelchair and other mobility aids
Hand sanitiser and tissues
Carpeted flooring
​
Accessibility For All
We value inclusion, it is one of our values that guides our approach. Some of the measures we have taken to provide equal access include:
Accessible parking behind the building 50m from the entrance
Even floor surface between the outdoor sidewalk and the building entrance
Automatic entry doors
Ramp access to the lift
Gender-neutral and wheelchair-accessible bathrooms
Very comfortable size-inclusive seating
Ample access and space for wheelchair and other mobility aids
Assistance dogs and guide dogs are always welcome
Resources in readable formats 
Accessible online/in-person Information (read compatible)
Your Safety Is Our Priority
Dietwise maintains a healthy clinic environment for you, your family members or carers and our hardworking staff, by implementing the following practices:
Mental Health First Aiders and LGBTQIA+ allies on staff
Police Clearance Certificate and Working with Children Check
Option of Telehealth appointments
Staff education on infection prevention and control procedures
COVID vaccination of Dietitians and support staff
Disposable masks and disposable drinking cups are available  
Professional cleaning of all rooms and bathrooms
Access to hand sanitiser in all rooms
Fire alarm testing, emergency exit signs, & evacuation diagrams
We're so glad you found us
Get In Touch
Reach out and tell us how we can help. We would love to hear from you.