Telehealth services
Working with us is easy
Distance is no longer a barrier to accessing our Dietitians with Telehealth as a flexible option available. Dietwise provides Telehealth all over Australia, including the Perth Metro area, rural and remote areas of WA, interstate and overseas when people travel for study, work or pleasure. You can even mix it up by meeting in person for some appointments and virtually for others. We will make sure we fit in with you.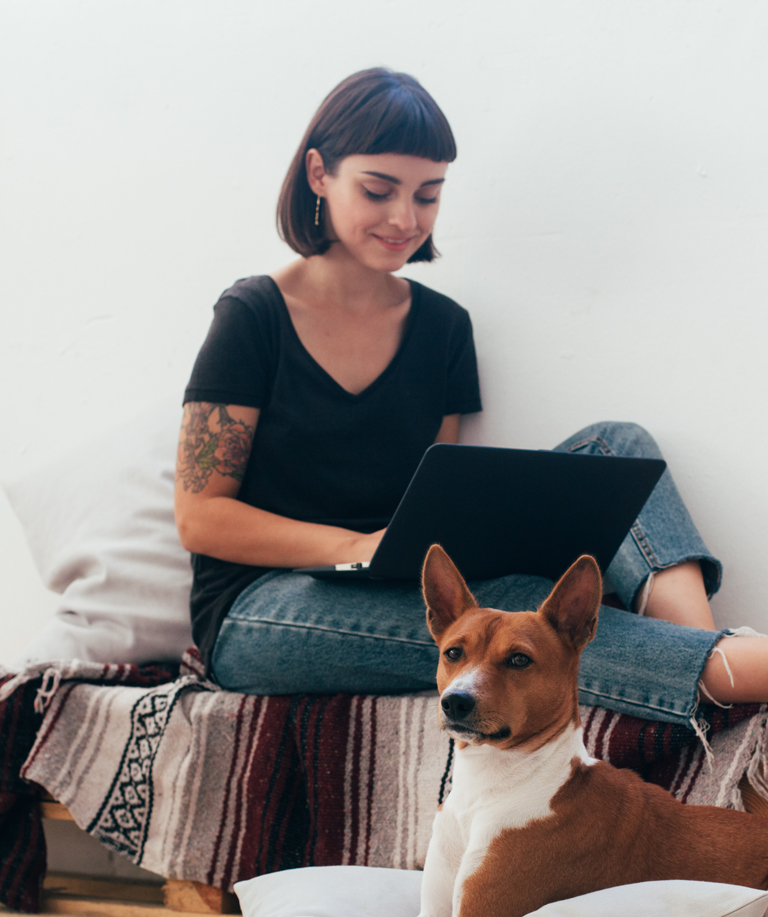 Telehealth is like having a face-to-face consultation but uses an internet connection for a video consultation using a smartphone, iPad, tablet or desktop computer. Telehealth can also be delivered as a phone call.  
The flexibility of providing online nutrition therapy means you can access our specialised services from wherever you are, at a time convenient to you. If you live in rural or remote areas where there is limited access to a specialist Dietitian or waitlists are long, Telehealth is a great solution for accessing support when you need it.
Telehealth is a flexible solution if attending Dietwise in person is difficult. Barriers can include distance, busy work or family schedules, issues with mobility, health, transport, or other factors such as overwhelming anxiety. It is particularly helpful if you live in rural and remote areas of Australia or if you need ongoing support if you travel overseas for pleasure, work, or study. You may also prefer Telehealth if opening up is easier in the privacy and comfort of your own home.
No, you do not need a referral for Telehealth services unless you are eligible to claim a rebate under Medicare for a Chronic Disease Management (CDM) plan or Eating Disorder Plan (EDP).
In order to receive a Medicare rebate for Telehealth, a Chronic Disease Management (CDM) plan or Eating Disorder Plan (EDP) from your GP, Psychiatrist or paediatrician is required. We are not a bulk billing practice so a gap fee will apply. Learn more about our fees.  Please ensure our Care Coordinator has received your CDM or EDP paperwork at least 24 hours before your session commences to avoid delays in your rebate being deposited into your nominated account. 
Depending on your level of cover, some private health funds will provide a rebate for Telehealth services when Medicare is not being claimed. We recommend checking with your private health fund first if you have Ancillary/Extras cover for Dietetics and if Telehealth is included. 
All our Dietitians offer Telehealth. Telehealth Appointments with Caylah and Eryn can be booked online. Telehealth with Sonya and Kirasha can be booked by ringing our Care Coordinator on (08) 9388 2423. 
We use Halaxy, a leading health platform to provide secure online appointments. There's no need to sign up for Halaxy or to download anything. When you book, our Care Coordinator will email an encrypted Telehealth link that you click on to join the appointment. Remember to check your junk or spam email if you cannot locate it. If for some reason you cannot locate the link, please call our Care Coordinator to resend it.
Please take note of your appointment time as we are based in WA and time zones may differ if you are interstate or overseas. Click the link using your device to enter the online waiting room at your appointment time. Your session will start when the 'Join' button pops up. This means your Dietitian has entered the virtual room and is ready to start. It is that simple. Want to read more about how to use Halaxy from your end?
Learn more about tips and tricks for using Halaxy. 
Make a cup of tea, get cosy and connect from the comfort of your home, office or other location. It is important to have a quiet, private space and ensure your chosen device (smartphone, iPad, tablet or desktop computer) has adequate battery charge and access to a camera, microphone and speakers that are connected and working. A reliable broadband connection is also important. It can also be helpful to turn off any online notifications or reminders that may be distracting.
Our Dietitians make every attempt to run on time however short delays may occur due to the nature and complexity of our work. We thank you for your understanding and patience. If you are becoming anxious or cannot run late with your appointment, please call our very helpful Care Coordinator.
We're so glad you found us
Get In Touch
Reach out and tell us how we can help. We would love to hear from you.